Roll Up Door Repair Providence
Roll up door Providence
Roll up doors, rolling gates, roll up doors, roll down gate, overhead doors, garage gates, security doors, steel gates, those are only a partial list of the names that people give the rolling doors. But no matter what name you choose to give to your rolling gate, what really important is that you will know that roll up doors, which aren't working perfectly are dangerous, and should not be used! So we would like to start with a short story about a person who chose to use a broken roll up door in Providence, although we recommended not to:
Broken roll up door case Study:
One of our clients in Providence was recommended about the services of Ocean Garage Doors & Gates by a neighbor who used our roll up services in the past, and knew that we do things the right way, or we do not do them at all. He called us and asked for free estimate for a roll up door repair in Providence. We answered that we do not provide free estimates for repairs, and that we have a service fee of $29. He said that he doesn't like the answer, but he will pay since he heard good things about us.
He met with one of our specialists, and the specialist quote the job for $275. The client told the technician that he has someone who specialize in roofing, and who told him that he can repair the roll up door for $50. The technician thanked him, whished a good luck, and added a small tip: Just be careful, roll up doors are not the thing for try and error.
In less than 4 hours we get another phone call from the client who tell us that he cannot get the gate to open, and that he is willing to pay the $350. We sent the same specialist again, but this time the situation was different: They tried to force the roll up's slats back into the tracks so hard, that the jammed the certain, and the gate could not be repaired without replacing many of the damaged slats. To make a long story short, a repair that could cost just $275, ended with close to $900, just because the client hired someone who doesn't "know" about commercial roll up doors in Providence and the way to deal with them.
Roll up door Expert Providence RI
All the roll up doors experts of Ocean Garage Doors & Gates have years of experience in the industry, and are aware of every issue related to roll up doors. During these years the techs have acquired knowledge to great level, which has helped them to ensure professionalism at every task, combined with the best and cheapest roll up doors services.
The roll up doors techs of Ocean Garage Doors & Gates are ready for any task, since when you are a real pro, you can deal with any gate or door, it can be a commercial rolling gate, or basement cellar door, whatever it is, and whatever type of roll up door is requested, we can be there today. Always on time, always with a positive attitude, since we know that being professional is not enough, to really become the best garage doors company in RI, you need to have the best customer's service.
Roll up door repair Providence RI
Is your roll up is jammed, stuck or refuse to open or close? Does the roll up door doesn't stay up anymore? Is it no longer possible to open and close the rolling gate using the key-switch? Then probably something went wrong with the mechanism or the motor of the roll up door, and it require a local roll up company in Providence to come and repair it. In most of the cases with stuck roll up or rollup gates/doors, you will find yourself unable to locate the problem on your own. And what many of roll up door owners does at this time is trying to open the gate again and again. But, if your roll up door is not working properly and it is not clear that what happened to it, you need to stop using it and call Ocean Garage Doors & Gates for same day commercial gate repairs in Providence. If you are going to force the gate to open or to open up or to close, and it can cause a bigger damage and can also put the safety of nearby people at risk. The right and safest thing for you to do, will be to get in touch with a local company in Providence who can provide a same day gate service. And get your roll up door back on tracks and operating smoothly again as soon as possible.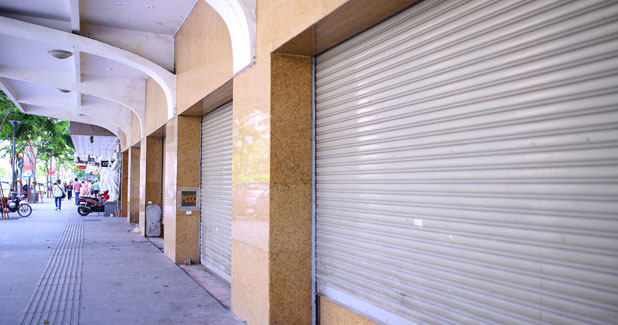 Services for roll up doors and rolling gates
When it comes to roll up doors repairs in Providence, we ensure to use the best and the safest methods to fix the door. We make the use of advanced equipment to ensure full efficiency of the repairs and our qualified techs implement their methods they acquired during many in the gate repairs and installation. But there is one thing we will never compromise on, and this is the safety. Safety is our main concern when fixing roll down door or rolling gate in Rhode Island. Being known to the possible results, that when performed by someone who isn't qualified to deal with roll up doors can end with injuries, our specialists take all the safety measures to ensure a safe service.
Emergency Roll up door Repair in Providence
We understand how urgent it can be for you to be able to use the roll up door again. That's why we deal in providing same day services, no matter how big or small the issue is. Having sufficient number of experts, we ensure to provide you the quick repair services for your broken rolling gate in Providence. All our services come with warranty. Whether it is the parts that we use or the repair itself; we provide warranty, since we know what we are doing, and have years of experience in repairing roll up doors in Rhode Island.
Emergency calls for commercial roll up doors in Providence can come anytime and anyway. Think about a situation that you want to open the shutter that cover the main entrance to your store, or the garage gate of your home, but the door isn't opening. Ocean Garage Doors & Gates offer same day emergency roll up door repairs in Providence RI, you can call us anytime and one of our roll up door specialists will be there.
With our emergency roll up door repairs, we ensure that our clients can have peace of mind knowing that their gate is in the hands of a responsible company, and there is no possibility of any further damage, and when we will complete the repair, the roll up door will be safe for use again.
Commercial Rolling Doors Providence
Do you own automated roll up door in Providence? Then you must be aware that the automated roll up doors are more likely to get jammed. As the part that makes your door automated door is the motor itself, most of the times the roll up door defects occur due to it. It can be the problem with the electric key-switch, the safety features, the contactors, or the motor itself. As reason can be any among these, you are required to hire qualified roll up door expert for detecting the problem and then fixing it efficiently.
In case you are in need of emergency roll up door repairs in Rhode Island, you can call Ocean Garage Doors & Gates at any time, any day. We have spent years repairing rolling doors and commercial gates, we are aware of all possible repairs which might be required to make a jammed roll up door working again. Our expertise in the field and the latest tools help us to locate and fix every issue that your automated gate can encounter. However, if your roll up door is a motorized one, then in most of the cases the problem is with an opener. But, if it is not a motorized gate in Providence, then the other parts may have problems. No doubt that the incorporated parts of Steel made gates are same as that of other doors, but there is little difference in their attachment. So, for detecting whether your roll up door is working well or is having any hidden problem, call Ocean Garage Doors & Gates and we will repair your broken rollup gate today. It can be a roll up door repair in RI, or commercial gate repairs in DC, we can be there today, since we service all Providence County.
By thoroughly inspecting the roll up door, and doing the required repairs and service, we will make sure that when we complete the job, the gate will work again smoothly and safely. Sometime, the smallest issues can damage the whole system, and a qualified roll up door technician – like the experts of Ocean Garage Doors & Gates - should be able to locate it. If we have the part with us, we will fix the gate on the spot, if the part need to be manufactured, we will provide you with a temporary repair, and we will return to complete the service with the right part. We never do "half job". When we leave a job site, we know that we leave the customer with a perfectly safe to use roll up door.
Emergency Roll up door Repairs Providence County
As a company that specialize in all kinds of gates in Providence, including commercial and industrial gates, it make no difference what type of gate you own, and which service it require, the experts of Ocean Garage Doors & Gates are always there to provide you with the service that made Ocean Garage Doors & Gates into one of the best doors and gates companies in Providence. You might need emergency gate repair, or new overhead door installment, we will always be there for you.
There is no such thing as commercial gate we cannot service. You might be looking for a commercial gate maintenance, or for a roll up door chain system replacement, call us today for same day service. Ocean Garage Doors & Gates service automated gates and roll up doors. You do not need to worry that you might have to wait days with your gate stuck just for a specialist to come and service your jammed or stuck roll up door. With our emergency commercial gate repairs we will get your gate moving safely again today.
There are many possible solutions to a stuck rolling gate, it can be a roll up door with a broken spring, or a commercial gate with a jammed chain system. If the case is a broken spring, we will measure the gate, provide you with a temporary solution, secure the gate for you, and return with all the components required to complete the service. Our experts have the ability to deal with multiple tasks, such as roll up door repairs and new rolling gate installation. We can provide service for many gates and doors, since when it comes to roll up door repair in Providence RI, Ocean Garage Doors & Gates is here to make the gate work again. It can be emergency rolling gate repair in Providence, a new roll up door installation in DC, or driveway gate repair in Pawtucket, the experts of Ocean Garage Doors & Gates have the tools, the parts, the knowledge and the experience required to perform the best job.
For Gate Repairs in Providence, Call: (401) 200-6356